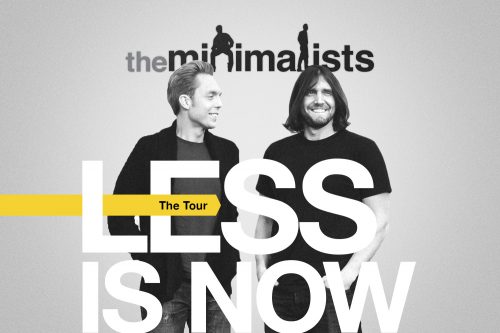 After more than 40 events in North America, their 'Less Is Now Tour' is coming to Australia and New Zealand in March 2018.
Each night, Joshua and Ryan will present an in-depth talk about minimalism and record a live version of The Minimalists Podcast.
If life is too cluttered and chaotic, The Minimalists are here to help you make room for the most important things, which aren't really things at all: your health, relationships, growth and passions.
Feeling trapped in successful but unfulfilling corporate careers, Joshua and Ryan worked long hours, wasted money, stayed in bad relationships and spiraled into depression. The everyday grind pushed them further into debt and discontent.
After each undergoing a life-changing event, Joshua and Ryan walked away from their six-figure careers and discovered minimalism. Jettisoning most of their material possessions taught them that physical things can get in the way of the most important 'things' in life: their health, passions, growth, relationships and their contributions to the world around them.
The Minimalists website, podcast, documentary and sellout tours have helped over 20 million people declutter and find meaning.
MINIMALISM is your chance to see how your life can be better with less.
11 March 2018
Held at the Brisbane Showgrounds, Brisbane
For further information on the tour visit and book your tickets: https://www.theminimalists.com/tour/.
Listen to their TEDx talk here
About The Minimalists
JOSHUA FIELDS MILLBURN worked in the corporate world for over 12 years, most recently as director of operations for over 150 stores, but after the death of his mother and end of his marriage (in the same month), Joshua quit his job to become a full-time writer and discovered minimalism. Joshua now owns less than 288 things and lives in a minimalist apartment in Montana. You can follow Joshua on twitter using his particularly minimal handle @JFM.
RYAN NICODEMUS has over a decade's experience mentoring, coaching and training in the corporate world and also works as a personal mentor. A passionate snow-, wake- and paddle boarder, Ryan was living the corporate American dream until he was laid off. Ryan's life changed when he discovered minimalism and now lives a meaningful life, with less stuff, in Montana, with his partner, Mariah. You can follow Ryan on Twitter or Instagram @RyanNicodemus.